Förderung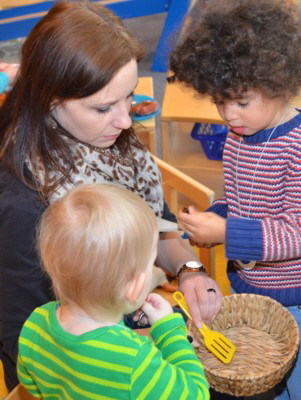 Aktuelle Studien belegen, dass exekutive Funktionen und sozial kompetentes Verhalten gefördert werden können (Diamond, 2012; Domitrovich, Cortes, & Greenberg, 2007). Zu den wirksamen Interventionen zählen u.a. Bewegung, Achtsamkeitsübungen, spezielle Spiele und Übungen am Computer sowie umfassendere Programme für Schule und Kindergarten wie z. B. das in den U.S.A. von Bodrova & Leong (2007) entwickelte "Tools of the mind" (Diamond & Lee, 2011). Zu beachten ist bei allen Interventionen immer der Entwicklungsstand der Kinder und die Art der Durchführung. Die Förderung exekutiver Funktionen gelingt besonders dann gut, wenn u.a. auf folgende Faktoren geachtet wird (Diamond & Lee, 2011):
frühzeitige Förderung,
Herausforderung ohne Überforderung,
Spaß und Freude,
viele Wiederholungen,
Integration in den Alltag,
Berücksichtigung der emotionalen und sozialen Entwicklung,
gemeinsame Aktivitäten.
EMIL integriert die Erkenntnisse aus bisherigen Interventionsstudien in einem alltagsintegrierten, ganzheitlichen und an den Stärken ansetzenden Konzept.